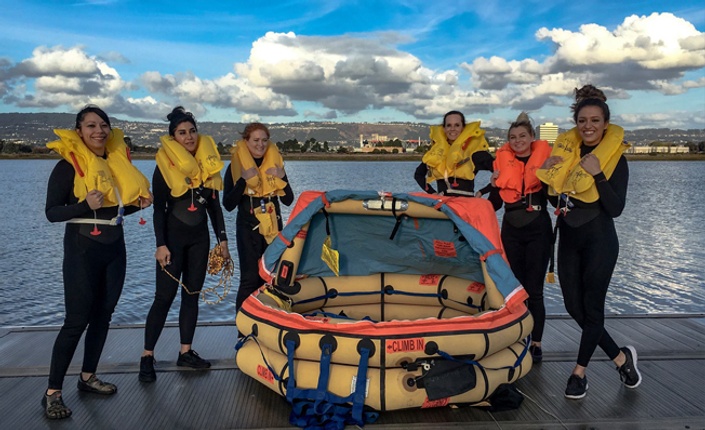 General Emergency Crewmember Training
For today's private aviation crew when it comes to safety, there are no second chances.
Learn the skills you need to react effectively and efficiently while keeping your guests safe in an emergency situation.
✔ Save time by completing your recurrent General Emergency Training ONLINE through SkyAngels SKYacademy!

✔ Train from anywhere in the world: Our eLearning platform was developed to save you time spent in the classroom. Complete online training at your own pace and schedule from anywhere in the world.
✔ Train locally: SkyAngels SKYacademy is the only company in the North Western States to offer General Emergency Crewmember Training. Stop traveling and start training locally!

✔ Learn from industry leaders: SKYacademy instructors are working professionals in the industry with extensive experience, ensuring you receive the dedicated support you need.
✔ Train with a fun group of likeminded people: Training doesn't have to be boring! Meet and train with a fun group of like-minded people during your practical training session.
Recurrent training:
Most operators require General Emergency training to be completed every 12 months. Save time by completing your entire General Emergency Crewmember training ONLINE. No hands-on training is required.
Note: The G550 training included in this course meets most of the recurrent FAA requirements for the G550 Evacuation Crewmember. Students are required to view their aircraft specific "Cabin Familiarization" DVD to meet the FAA recurrent certification requirements. SKYacademy does not have access to this DVD.
Initial Training:
Online training must be successfully completed prior to attending the hands-on portion of training. Hands-on training runs for half a day, 4 to 6 hours. Training takes place at our training facility in Santa Rosa on the second Friday of each month.
Frequently Asked Questions
I am new to aviation, is this course right for me?
In order to meet the FAA part 135.331 requirements for business aviation crew members, you must also complete the In-flight Services Training. If you are new to the industry, sign up for our All-inclusive training package which encompasses both of these courses.
How long do I have to complete the course?
You will have 60 days to complete the online portion of the course. Upon successful completion of all modules, you will have 30 days to enroll in and attend the in-class training component. If the online portion of your training is not completed after 60 days, and / or you have not completed the in-class training session 30 days thereafter, you will forfeit your enrollment and must purchase the course again to receive your certification.
Do I have to complete the course in one sitting?
No. You can complete the course at your own pace however, we recommend completing all lessons of a module at once.
Does SkyAngels look after travel and accommodation costs while at SKYacademy training?
Travel and accommodation is the responsibility of the student however, we do offer recommendations on nearby accommodation options.
When it comes to safety, there are no second chances!